LASH EXTENSIONS: DON'T BELIEVE THE MYTHS!
There are all sorts of myths & incorrect information out there about lash extensions, we're here to set the record straight & give you all the info you need to know to ensure you get the best results!
What Are Lash Extensions?
Eyelash extensions are a semi- permanent lash enhancing treatment made of synthetic, silk or mink fur, and are applied to your own natural lashes.
There are two main styles/techniques to achieve your desired look:
Classic Style:
Which is when one individual lash extension is applied to one single natural lash
Russian Volume:
This is achieved by having a fan of 3 to 6+ lashes applied to one single natural lash.
Here at EVE Beauty Queenstown we perform classic style lashes for a more natural and easier to maintain look. We also only use synthetic vegan lashes. It's really important to understand that a correctly completed set of lash extensions will have an individual lash applied to each of your natural lashes.
You will often find some salons offer a "natural option" which is cheaper because they only apply 40 to 60 lashes to each eye (you have on average 120 to 200 natural lashes per eye). While it might feel like this is great cheaper option, it's highly likely you will leave feeling like your lashes look unfinished & spidery because technically they are unfinished.
At EVE we always allow 1.5 hours to do a full new set of lashes to ensure you get the best possible result. We offer a large range of different curl sizes and hair widths to create your desired look, while always ensuring the health of your natural lashes is the number one priority.
Why do people get lash extensions?
If you are constantly trying to add length, volume or even curl to your lashes, then extensions are perfect for you.
They save time on applying mascara in the mornings, are waterproof and can look as natural or dramatic as you want them too. They are great for special occasions, bridal parties or just everyday wear.
Who are they suited for?
Eyelash extensions are suitable for anyone and come in different lengths, curls and width to suit your eye shape and natural lashes. Our lash technician will ask you a range of questions before she starts your treatment to get an understanding of what desired look you're after, and will also recommend the best options to ensure your natural lashes stay strong & healthy.
How long does a full set of lashes last?
You generally need infills every 2-3 weeks depending on your natural lash growth cycle and how well you look after them at home.
Your natural lashes grow at different stages and eventually fall out, each natural eyelash has a 6 to 8 week life cycle.
On average each eye can shed 2-3 natural lashes per day, that means:
After 1 week, you've lost up to 21 Lashes

After 2 weeks, you've lost up to 42 Lashes

After 3 weeks, you've lost up to 63 Lashes
As your natural lashes fall out, obviously the extensions go with them. This is why we recommend you come in for a lash infill within 3 weeks so new extensions can be applied to the new natural lashes that have grown through.
Lash Extension Myths:
Lash extensions will not make your lashes fall out if they are correctly applied by a certified lash technician, they will fall out naturally when your lashes are ready, the same way they always do - regardless if you have extensions.
Lash extensions will not cause infections if you follow correct home care.

Lashes will fall out and damage your natural lashes if:
They are incorrectly applied

You rub your eyes or pick at them

You use regular mascara (VS extension specific mascara - available in salon) or use oil based products on your eyes.

You don't clean them regularly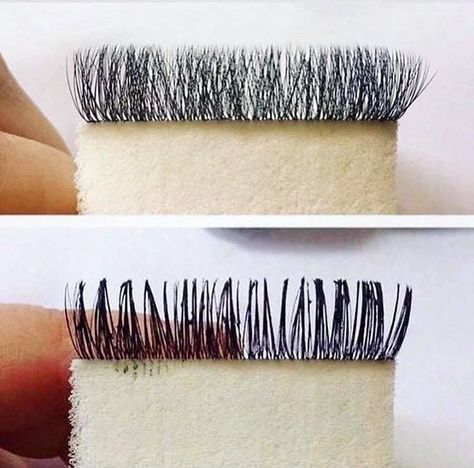 THIS IS A REALLY GOOD EXAMPLE OF WHAT WEARING regular MASCARA ON LASH EXTENSIONS WILL DO TO THEM. THE DEFINITELY DON'T LOOK AS GOOD DO THEY! If you still want to wear mascara make sure you ask us about the extension specific one we have available in salon.
To get the most life out of your lashes it is important to trust your lash technician when they suggest an appropriate length and width for your natural lashes.
Requesting too long of lash extensions when your natural lashes are quite short, weak or fine is unrealistic and the lash extensions will weigh your own lashes down causing damage and breakage, causing them not to last.
Home care is so important!
It is extremely important to keep your lashes clean from make up and oils.
Even if you don't wear makeup on your eyes ,everyday oil, grime & dead skin cells do eventually build up at the base of your lashes.
This is what your lash extensions can end up looking like if you don't clean them regularly. This is a build up of dead skin cells & bacteria.
This is why it's so important to wash them daily, it will extend their life!
If you're not cleaning them properly it can lead to clumping, damage and even bacterial infections. You can clean your lashes properly using a lash cleanser specifically designed for lash extensions, we sell this product in salon that is developed by the same brand as our lash extensions, Nouveau. Most other cleansers have ingredients that will break down your lash glue and you will cause your extensions to fall out faster.
Other Key Lash Care Tips:
Avoid steam, water, saunas, sweating for at least 24 hours after getting a fresh set of lashes.

Brush your lashes through regularly to keep them separated. We can provide you with a wee brush at the time of your appointment.

Sleep on a silk pillow cases.

Don't rub or pick your eyes.

Do not wear mascara regular or waterproof mascara. We do sell a lash extension specific mascara in salon if you do still want to wear it - please ask our lash technician about it at the time of your booking.

Avoid as much eye makeup as possible, don't use makeup wipes or cotton pads to remove makeup around your eyes, the tiny fibres can get tangled in your extensions.
If you're unsure on whether or not lash extensions are the right option for you, please don't be afraid to come in salon, give us a call or email. We're more than happy to answer all your questions and give you some recommendations on what will best suit you & your lifestyle.
If you'd like to book in for lashes you can do so via our online booking system HERE.
Please note, we do not do infills of other salons lashes - you will need to book in for a removal & new set :)