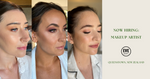 Makeup Artist Position | Queenstown, New Zealand
Are you a passionate and talented makeup artist with a specialization in bridal makeup? Do you have at least 2 to 3 years of hands-on experience in the beauty industry? If so, we have the perfect opportunity for you! We are seeking a dedicated and qualified Makeup Artist to join our dynamic team at EVE Beauty in Queenstown, New Zealand
Job Description:
As a Makeup Artist at EVE Beauty, you will be responsible for creating stunning and personalized makeup looks, with a focus on bridal makeup. You will work closely with our clients to enhance their natural beauty and make their special day even more magical. You will be an integral part of our team, providing exceptional customer service and promoting a positive and welcoming atmosphere in the salon.
Key Responsibilities:
Specialize in bridal makeup, including consultation and trial sessions.
Create customized makeup looks for clients based on their preferences and skin types.
Stay up-to-date with the latest makeup trends, techniques, and products.
Maintain a clean and organized work area, following all hygiene and safety standards.
Build and maintain strong client relationships by providing excellent service.
Work weekends and be flexible with your schedule to accommodate bridal appointments.
Experience doing reception and admin jobs is an added bonus
Qualifications:
Proven experience as a Makeup Artist, with 2 to 3 years in a professional setting.
Certification or relevant makeup artist qualifications.
Strong portfolio showcasing bridal makeup work.
In-depth knowledge of makeup products, techniques, and skin types.
Excellent communication and customer service skills.
Ability to work weekends and adapt to a flexible schedule.
Full NZ drivers licence and own vehicle to travel to onsite jobs
What We Offer:
Competitive salary and opportunities for commission.
A supportive and creative work environment.
Access to a wide range of high-quality makeup products.
Ongoing training and professional development.
The chance to work with a diverse and loyal clientele.
If you are a talented Makeup Artist with a specialization in bridal makeup, and you're ready to take your career to the next level, we would love to hear from you! Join our team at [Beauty Salon Name] and help make dreams come true for brides on their special day.
To apply, please submit your resume, a cover letter, and your portfolio showcasing your bridal makeup work. We look forward to meeting the makeup artist who will help us continue to provide exceptional beauty services to our clients.
Application Deadline: 29th November 2023
Contact: Genevieve at hello@evebeauty.co.nz
EVE Beauty is an equal opportunity employer. We welcome applications from candidates of all backgrounds and experiences.