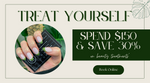 July Special | Spend & Save 30% on Beauty Treatments
Are you looking for a mid winter Queenstown beauty pick me up?
Now is the perfect time to treat yourself to some pampering or to book in for the overdue beauty maintenance treatments that have been on your to do list.
For the month of July if you book in for $150+ worth of beauty treatments you will save 30%. (that means you only pay $105 for $150 worth of treatments)
When booking online use the discount code SAVE30 for this promotion to be added to your booking.
Terms & Conditions:
- Appointments must all be done within the same day, can not be spread throughout the month.
- Discount is per client, it can't be split across multiple people to qualify. 
- Promotion isn't valid against services that are already discounted (such as mani/pedi bundle & other "July Specials" or Graduate Pricing offers).
- If you currently have existing bookings and would like to add on extra treatments to qualify for the offer please get in touch with us at hello@evebeauty.co.nz or you can DM us on Instagram
- Discount does not apply to appointments with Genevieve.
- Discount applies only to services, not product purchase.